Posth et al. 2018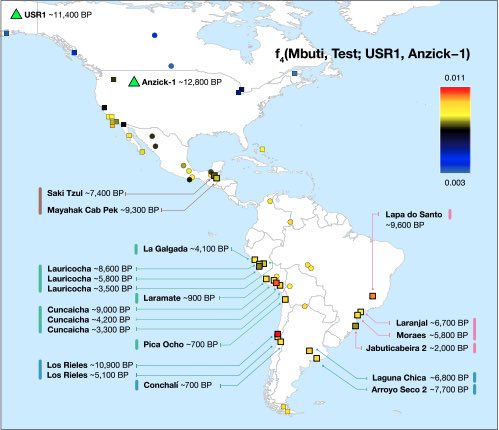 Reconstructing the Deep Population History of Central and South America
.
Cell
. Published November 15, 2018.
Authors: Cosimo Posth, Nathan Nakatsuka, Iosif Lazaridis, Pontus Skoglund, Swapan Mallick, Thiseas C Lamnidis, Nadin Rohland, Kathrin Nägele, Nicole Adamski, Emilie Bertolini, Nasreen Broomandkhoshbacht, Alan Cooper, Brendan J Culleton, Tiago Ferraz, Matthew Ferry, Anja Furtwängler, Wolfgang Haak, Kelly Harkins, Thomas K Harper, Tábita Hünemeier, Ann Marie Lawson, Bastien Llamas, Megan Michel, Elizabeth Nelson, Jonas Oppenheimer, Nick Patterson, Stephan Schiffels, Jakob Sedig, Kristin Stewardson, Sahra Talamo, Chuan-Chao Wang, Jean-Jacques Hublin, Mark Hubbe, Katerina Harvati, Amalia Nuevo Delaunay, Judith Beier, Michael Francken, Peter Kaulicke, Hugo Reyes-Centeno, Kurt Rademaker, Willa R Trask, Mark Robinson, Said M Gutierrez, Keith M Prufer, Domingo C Salazar-García, Eliane N Chim, Lisiane Müller Plumm Gomes, Marcony L Alves, Andersen Liryo, Mariana Inglez, Rodrigo E Oliveira, Danilo V Bernardo, Alberto Barioni, Veronica Wesolowski, Nahuel A Scheifler, Mario A Rivera, Claudia R Plens, Pablo G Messineo, Levy Figuti, Daniel Corach, Clara Scabuzzo, Sabine Eggers, Paulo DeBlasis, Markus Reindel, César Méndez, Gustavo Politis, Elsa Tomasto-Cagigao, Douglas J Kennett, André Strauss, Lars Fehren-Schmitz, Johannes Krause and David Reich
Abstract: We report genome-wide ancient DNA from 49 individuals forming four parallel time transects in Belize, Brazil, the Central Andes, and the Southern Cone, each dating to at least ∼9,000 years ago. The common ancestral population radiated rapidly from just one of the two early branches that contributed to Native Americans today. We document two previously unappreciated streams of gene flow between North and South America. One affected the Central Andes by ∼4,200 years ago, while the other explains an affinity between the oldest North American genome associated with the Clovis culture and the oldest Central and South Americans from Chile, Brazil, and Belize. However, this was not the primary source for later South Americans, as the other ancient individuals derive from lineages without specific affinity to the Clovis-associated genome, suggesting a population replacement that began at least 9,000 years ago and was followed by substantial population continuity in multiple regions.